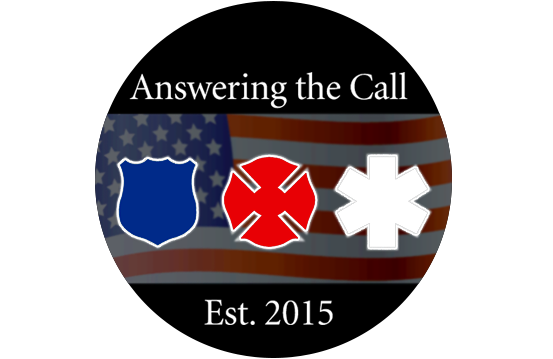 The Official Homepage for the Answering The Call 911 Foundation
SIGN UP NOW FOR OUR $9.11 MONTHLY DONATION
Since January 1st , 2023, ATC has donated $65,000 back to local first responders and their families. These donations range from Officers being shot, to recent rare and aggressive cancer diagnosis's, to severe injury motor vehicle accidents, to a Young-Trooper being struck by a vehicle traveling 55 MPH while assisting a motorist on the side of a highway.
The agencies we have assisted just this year range from KCK Fire, Independence Fire, Johnson County Kansas Sheriff's Department, Kansas City Mo Police Department, Blue Springs Police Department and Missouri State Highway Patrol.
In just two weeks, KCPD has had four Tactical Operators shot in the line of duty, thankfully all have survived. In the most recent incident, three operators were shot immediately upon breaching the front door of a residence they were attempting to serve a search warrant at. Each of these four families received immediate financial assistance from ATC. As of this morning, the three shot late Tuesday night are still hospitalized, but thankfully will be returning home to their families.
These incidents that I have described to you above, is the exact reason ATC exists. Before ATC, there was zero aid of any kind provided to these men and women who serve and protect us. This opportunity to serve them, in their time of need, only exists due to your continued support, and for that I am extremely grateful!
COME SUPPORT ATC911 & THE MAVERICKS HOCKEY TEAM
FIRST RESPONDERS NIGHT
March 3rd,17th, & 25th, 2023
Join Kansas City's Professional Hockey Team for a fun night out at a Mavericks Hockey game this season while also benefitting First Responders. For each ticket purchased through this link, the team will donate a portion of the proceeds directly back to ATC911
Answering the Call was founded in 2015 to support all First Responders in a time of need. This 501 (c) (3) was established to link the community support to local first responders during a difficult time. Answering the Call is a source of not only financial aid but a community awareness to support first responders and their families.
Easily Scan or Click on Our QR Code to Donate Directly Through Venmo!
Any donation is appreciated and all donations go directly back to our brave and courageous first responders to assist them in their time of need.
Answering the Call 911 has had the pleasure of helping with countless families and communities (not just first responders) and we continue to grow our reach thanks to all of you.
ATC VIDEO RESOURCES
Hear stories directly from those who have been helped by Answering the Call 911. These courageous men and women who put their lives on the line. 
For Other Donations or to Contact us by Mail, Use Address Below:
P.O. Box 6763
Lees Summit, MO 64064